Buying A Used INDIGO or SCIO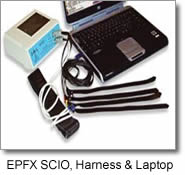 There are numerous Quantum Biofeedback devices for sale on E-Bay and other venues, especially SCIOs, but the trouble with them is that you never know what you are getting. How old is the device? How was it used? Is the vendor the registered owner?
Trevor can help you find a device that meets your needs and your budget without the risks of buying "sight unseen". Trevor is never satisfied until you have the device you want which meets your needs and he is there for you after your purchase if you have questions or concerns. Private sale SCIOs range in price from about $4,000 to $7,000 or more. When purchasing your device through a private vendor, training is not included, but this can be remedied with a supplemental "adoption" offered by Quantum World Vision.

Pre-Owned Current Sale Listing
Check out Trevor's best deals on used and sometimes never pre-owned INDIGOs and SCIOs. The time to make your move is now! Training and computer options are available. All prices in USD.
INDIGO - Pre-Owned $8,995 6-month warranty
SCIO - Pre-Owned $4,995 6-month warranty
SCIO - Refurbished LIKE NEW $7,995 2-year warranty
For more information, please contact Trevor directly by phone or e-mail so that he can discuss your needs, arrange a demonstration, and assist you with a purchase.

Broker Sales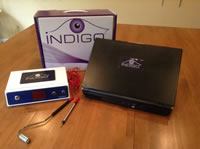 INDIGO USD $7,995 (ships from USA)
Very lightly used INDIGO device. Comes with: device box, harness and cables (not shown), laptop with 15.5 inch monitor and INDIGO logo on the back custom made for sale with the device when new, accessory roller, accessory point probe, and original box. With this package, you have everything you need for commercial or family use.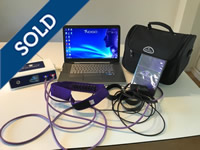 INDIGO USD $7,395 (ships from Europe)
New INDIGO seldom used since new in 2011. Comes with: device box, all the cables, harness, custom carrying case, and assorted protocol books (not shown). A Dell laptop with 15.5 inch screen is included in the price of this package. It requires a new battery and North American users would have to buy a new power adaptor for it. The laptop is optional. Owner is open to offers with or without the laptop.

Note: All used devices require the buyer to register the device in their name and install the latest software. The latter currently costs 300 euro (subject to change without notice). Call Trevor for latest info...